More details have surfaced on LG's upcoming flagship smartphone, the Optimus G2. Engadget has just posted several leaked photos of a new LG device that is said to be the company's new flagship smartphone. The phone takes some design cues from LG's Nexus 4 with rounded corners and an almost edge-to-edge screen.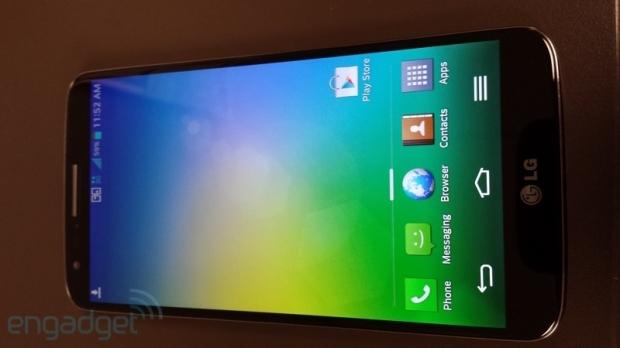 The phone features no hardware buttons and looks significantly more sloped without the Nexus 4's hard edges. According to Engadget, the G2 is significantly larger than the Nexus 4 due to it featuring a 5.2-inch 1080p screen. LG has revealed in the past that the next generation Optimus G phone will feature a QUALCOMM Snapdragon 800 processor clocked at 2.3GHz.
The phone will feature 2 GB of RAM and will sport a 13-megapixel rear-facing camera. Most notable is that LG has chosen to place the volume rocker buttons on the back of the phone below the rear camera. The reasoning behind LG's decision to do this is unknown and quite frankly, I think it is a horrible idea. Rumors are circulating that we could see the G2 launched on August 7 at a press event LG has been sending out invitations for. All images are courtesy Engadget.com.