Google is most often referred to as the search king, and rightfully so as it does search better than all others. What we tend to forget is that Google makes most of it's money from advertising, which is something else the company does phenomenally well. Like most other companies, Google is not a fan of competition and this morning it has flexed its muscles in an effort to remove all "adult content ads" from Blogger.
Google is sending out notices to owners of adult-themed blogs hosted on its popular Blogger service. The notice warns of a change to its terms of service which will restrict its users from earning money by displaying adult ads on their blog. The email explicitly states that on June 30 Google will "strictly prohibit the monetization of Adult content on Blogger."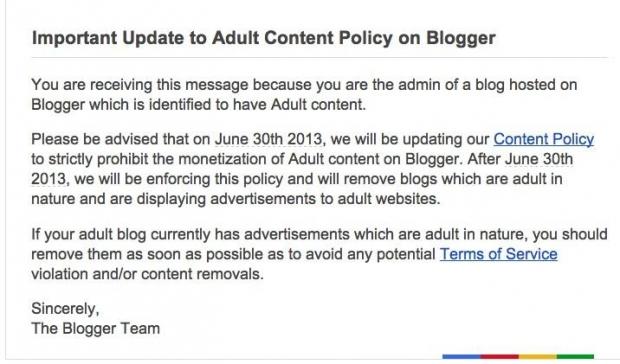 At the moment, it appears that Google is contacting Blogger users that have already manually mark their blogs as adult or have been identified (through means unknown) to be running explicit ads. The process does not appear to be flawless as some users have reported receiving email even though they have never made a single post on their blog.