Google removes all clouds from Earth imagery
Google releases updated satellite imagery that is free of clouds.
Published Wed, Jun 26 2013 8:33 PM CDT
|
Updated Tue, Nov 3 2020 12:22 PM CST
Google has processed hundreds of terabytes of Earth imagery to construct a cloud-free version of its satellite imagery used in its Maps and Earth products. The data is also now higher resolution, providing the ability to see the Earth in greater detail. The new imagery comes from NASA's and USGS' Landsat 7 satellite. Due to a hardware failure early in life, this was no easy feat.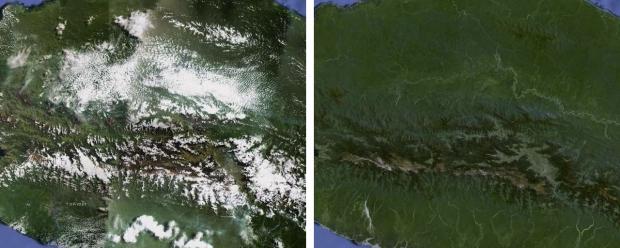 Landsat 7's imagery has black stripes in the normal images due to said hardware failure. Google had to combine multiple images in order to remove those black stripes. This same process is essentially how they managed to get a cloudless version of their imagery, even in tropical zones that almost always have some cloud cover.
Google has also focused on bringing the new imagery to zones that hadn't been updated in a while. This means the new imagery focuses on Russia, Indonesia, and central Africa. Google notes that the new image is over 800,000 megapixels. In other words, it would take a piece of paper the size of a city block to print it out at the standard 300dpi.
Head on over to Google Maps and turn on the satellite layer to see the updated imagery.
Related Tags