Razer has just announced a new software package targeted at gamers that will allow them to turn their boring old normal headphones into a 7.1 channel surround beast. Razer Surround, according to the company, goes above and beyond existing multi-channel simulation packages by giving users a calibration system that tunes the effect for individual listeners.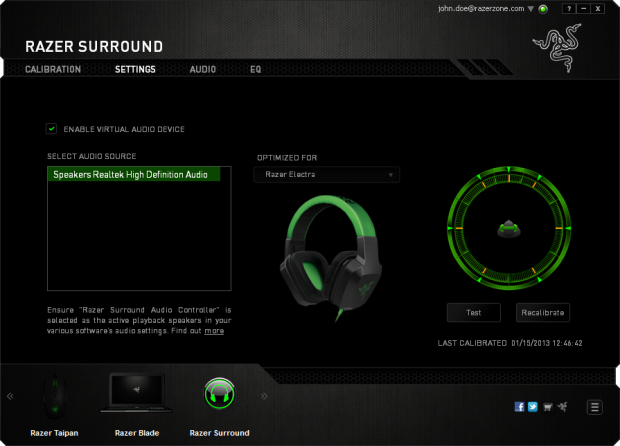 The software is designed as an add-on for the Razer Synapse 2.0 software package and the company has plans to offer it for sale in 2014 for $19.99, but the company is offering a pretty sweet deal to early adopters. Anyone wishing to purchase Razer Surround before January 1, 2014 will receive an unprecedented 100-percent discount.
Razer simply asked that if you find the software useful that you donate some cash to the Child's Play charity (source #2). The software is compatible with Windows Vista and higher and provides preconfigured calibrations for all razor audio products. Custom configurations can be built to calibrate for third-party headsets and users will need to register for Razer Synapse 2.0, so an online connection is needed.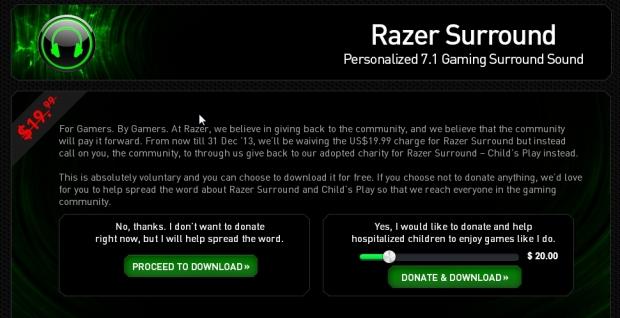 "With the individual calibration of Razer Surround, we're setting a new standard in 7.1 virtual surround sound," wrote Min-Liang Tan, Razer co-founder, CEO and creative director, of his company's latest release. "We're a big believer of giving back to our fans and the gaming community, and making Razer Surround available free with a donation to Child's Play in 2013 is a testament of our commitment to giving back to current and future gamers of the world."
I love the idea of companies giving away software and asking you to donate money to their favorite charity. This is why the Humble Bundle works so well and why I have bought it every time. I just downloaded my copy of Razer Surround and donated $20 to Child's Play and now challenge you to do the same. For those of you interested in knowing more about Child's Play, I have posted their "About us" information below.
From Child's Play charity:
Since 2003, we've set up and organized Child's Play, a game industry charity dedicated to improving the lives of children with toys and games in our network of over 70 hospitals worldwide. Over the years, you as a community have answered the call and come together to raise millions of dollars.

Child's Play works in two ways. With the help of hospital staff, we set up gift wish lists full of video games, toys, books, and other fun stuff for kids. By clicking on a hospital location on our map, you can view that hospital's wish list and send a gift.

Child's Play also receives cash donations throughout the year. With those cash donations, we purchase new consoles, peripherals, games, and more for hospitals and therapy facilities. These donations allow for children to enjoy age-appropriate entertainment, interact with their peers, friends, and family, and can provide vital distraction from an otherwise generally unpleasant experience.