Pandora and Facebook have had a very friendly relationship for years now and now both companies are taking it to a new level with a purpose built app for Facebook's Timeline. The new app will let users share what they are listening to on their timeline, similar to how Spotify handles things.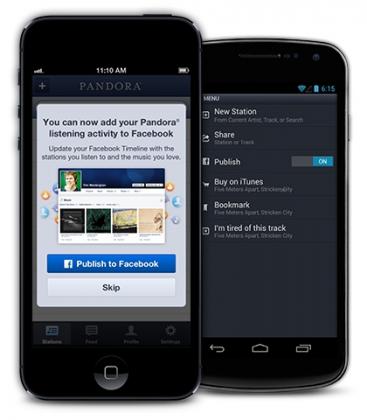 The new functionality is being integrated into Pandora's iOS and Android apps as well as Pandora.com and will let users automatically publish their listening habits to their Facebook Timeline. Pandora users will be able to specify which stations they share on the social network, as well as which artists and tracks they would like to appear on the wall.
In a statement, Pandora's Tim Conrad, had the following to say:
"While we've offered social features that allow you to explicitly share your Pandora stations and music discoveries to Facebook for some time, today's update makes sharing effortless. This means it's easier than ever to discover new music from friends' listening activity in your Facebook News Feed or by checking out the music section on their profile."