This morning Google and Time released the culmination of a project in which they teamed up with NASA and the US Geological Survey to produce a historical perspective on how Earth has changed over the past 30 years.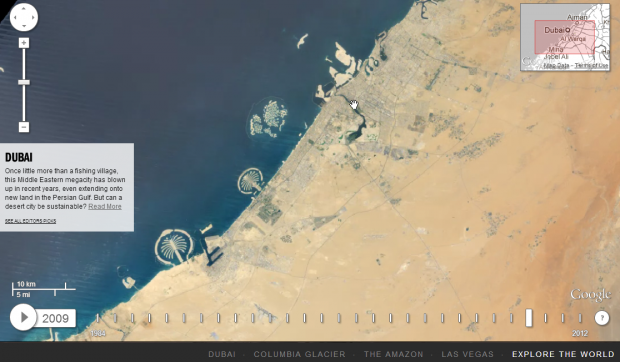 The project takes satellite imagery produced by the LandSat program and stitches them together removing clouds and haze to produce animated GIF images of how a region has changed over the past three decades. The Time.com hosted site features a handful of pre-chosen sites such as the Amazon Rainforest, Las Vegas, Dubai, Mendenhall Glacier and the Oil Sands fields in Russia.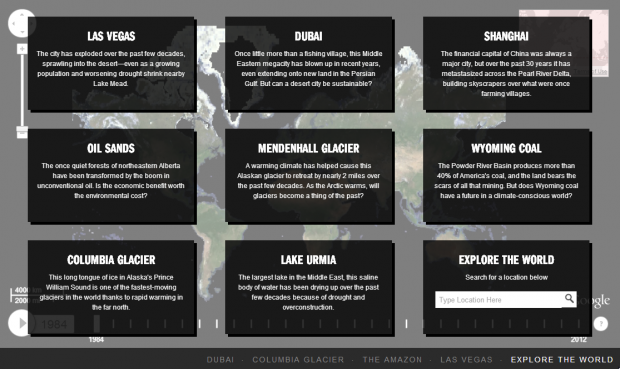 The project consists of literally millions of individual images taken by the LandSat satellites that have been orbiting Earth at an altitude of over 400 miles since the 1970's. The project began in 2009 when Google began working with the USGS to make the entire archive of LandSat imagery available to the public.
To put things into perspective, Google had to organize, sort through and stitch together over 2,000,000 images, which amounted to almost one petabyte of data. I do not know about you, but I get frustrated when having to sort through 100 photos, much less two million. This is a really cool project and you owe it to yourself to check it out in detail. Head over to source #1 to experience it for yourself.