This morning a screenshot appeared online of what appears to be an AnTuTu benchmark ran on the Google / Motorola X Phone. While the benchmark is cool, the truly interesting thing to be noted is the name change.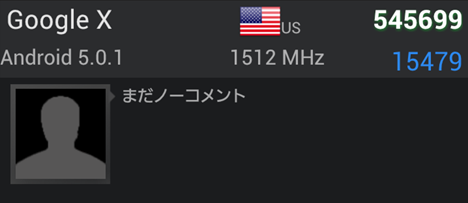 Having long been rumored as the Motorola X Phone, the screenshot shows that the device used in the benchmark was named Google X. While this could be a development codename, it is more likely that the X Phone takes on Google's name and could even become the Nexus X. To me this makes more sense as Motorola is deep in branding for the Razr line of phones.
The screenshot also seems to confirm rumors that the X Phone will run Android 5.0.1 codenamed Key Lime Pie, which was rumored to be unveiled at Google I/O. Unfortunately there are more rumors that Key Lime Pie will not make an I/O appearance due to development delays and setbacks.