Yahoo has teamed up with cloud storage provider Dropbox to do away with the current 25MB e-mail attachment file-size limit. It's much the same technology as Gmail uses with Google Drive integration. Attachments are loaded into a user's Dropbox and can be easily stored, updated, and forwarded.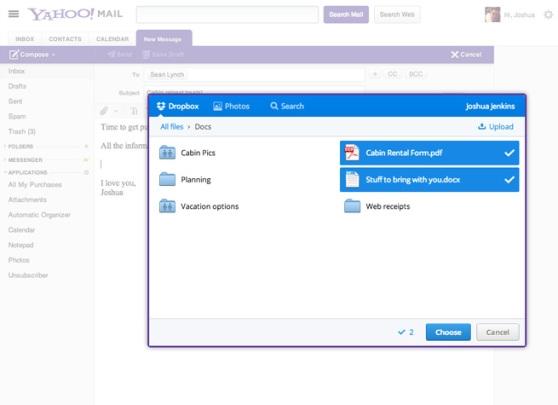 Some user e-mail accounts restrict file size or inbox size even further causing e-mails with large attachments to bounce. Dropbox says that this new integration will allow users to quickly save attachments directly to Dropbox where it will automatically sync to all of your devices:
Email attachments can be tricky: they've got file size limits, you can't keep them updated, and when you add people to a thread, attachments are the first to get left behind.

The Yahoo! Mail team decided to fix this-by integrating with Dropbox! Starting later today, if you're using a Yahoo! Mail account in English, French, German, Italian, or Spanish, you'll be able to access your Dropbox from right inside your inbox. You can add stuff from Dropbox to any email message and save attachments back to Dropbox, too.

Since this integration is Dropbox-powered, you can even send that big album of vacation pics without worrying about the 25 MB file limit. Plus, it's easy to save any photo, video, or doc in your Yahoo! Mail straight to your Dropbox, where you can get to it from anywhere.
This is just one of many feature improvements that Yahoo has implemented since Marissa Mayer took over as CEO.