If you've wanted to know how it feels to be a world renown overclocker, MSI have officially announced their 2013 MSI Master Overclocking Arena (MOA) is entering its six-year anniversary. MSI are going with a "NO LIMITS" concept, that will "bring out the core spirit of overclocking and help to unveil MOA 2013".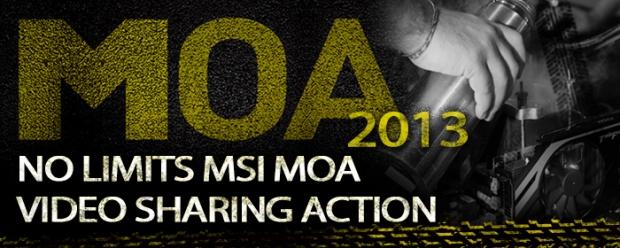 In order to enter, all you have to do is share the "No Limits MSI MOA" video on Facebook, giving you an entry into the draw. There will be two people chosen as winners, who will receive MSI's latest Gaming Series motherboard. Here's what you need to know:
Only members of the MSI FAN CLUB fans have the right to participate.

Winners must contact with MSI FAN CLUB before Apr. 15th, 2013 to retrieve the prices, anytime later than the designated date will be disqualified.

The organizer reserves the right to review the eligibility of participants. Winners will be disqualified and prizes will be recalled if participant takes part in any act of obstructing the fair game principle with malicious computer programs or any other methods or if nonconformance with the activity rules are detected or reported by a third party.
For more detailed information, please visit MSI FAN CLUB page on Facebook.