Sixty seconds on the Internet doesn't sound like much, but think of all the millions of users on simultaneously, all doing different things and the numbers add up very quickly. In only 60 seconds, around 640TB of data is transferred around the world.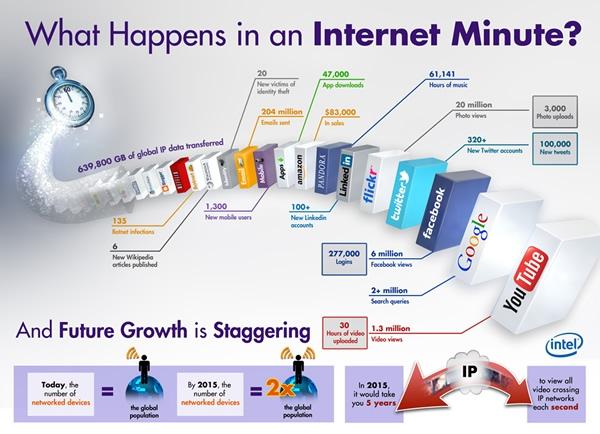 The data comes from an infographic by chipmaker Intel, who breaks it down into even more interesting numbers. Google is a big part of these numbers, where more than two million searches are conducted every sixty seconds. YouTube pushes out around 1.3 million videos, while at the same time consumes 30 hours worth of uploaded video for public consumption.
Moving onto social networks, Facebook sees around 6 million views, and Twitter enjoys around 100,000 new tweets per minute. E-mail is still a huge number, with 204 million e-mails sent out every minute. Most of these are most likely spam, but they still count as data being transferred. Intel has also made some projections looking into the future, where they expect the number of networked devices to double by 2015.