Valve have quite the announcement today, telling the world that Team Fortress 2 will get a new mode this week - "VR Mode" for Oculus Rift, the superstar VR headset. This means that people who own the development kit of Oculus' VR headset can play Team Fortress in virtual reality.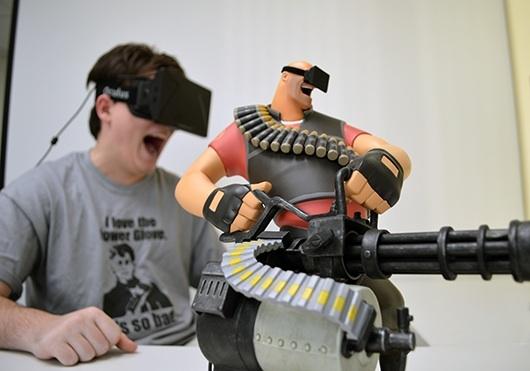 Engadget have an interview with Joe Ludwig, one of the engineers in Valve working with Team Fortress 2's VR Mode. The interview can be seen here. The good news doesn't stop there! What good is a new mode if we don't have a new exclusive had in the game? The Oculus Rift development kit is now a wearable item within the game! Valve has been even more generous, donating Rift hats to the Oculus developer community - so if you backed the Kickstarter campaign at any level at all, or pre-ordered one of the Rift developer kits from Oculus' website before April 1, 2013, you'll receive a code to redeem your own TF2 Oculus dev kit hat.
Now the big question - how long until we see Rift support added to other games? In Engadget's interview with Joe Ludwig, he says that TF2's VR Mode is a big test, to see how the community accepts it. Obviously Oculus' Rift headset won't be available to the consumer market until later in the year, so hopefully we see some Steam Box support, and maybe some Half-Life 3 launch at E3 with Rift support? Or am I asking too much there?