Research firm IDC have their latest report out, which expects to see a tip toward Android being dominant this year in the tablet market, taking the throne from Apple's iPad. IDC have increased their 2013 forecast for worldwide tablet shipments to 190.9 million, up from 172.4 million units.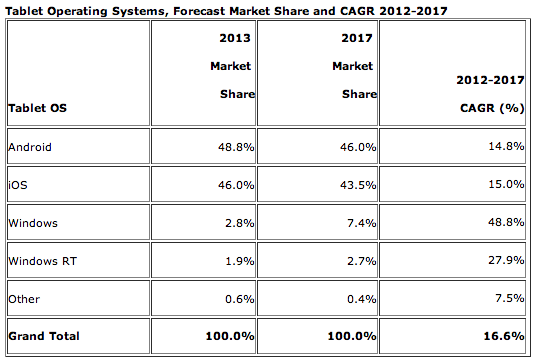 Interestingly, Jitesh Ubrani, Research Analysts for IDC's Tablet Tracker, has said: "One in every two tablets shipped this quarter was below 8 inches in screen size. And in terms of shipments, we expect smaller tablets to continue growing in 2013 and beyond." Getting into the Android dominance, the IDC report that moving into 2013, Google will continue to expand their share of the tablet market.
Android's share of the tablet market is expected to reach 48.8%, a huge surge compared to the IDC's previous forecast of just 41.5%. Android's increased dominance comes at the expense of Apple's iOS, which is expected to drop from 51% market share to 46% in 2013. How about Microsoft's Windows 8 platform?
IDC estimates that the Windows 8 platform will grow from just 1% in 2013, to 7.4% in 2017 - not even beginning to touch Apple and Google's numbers. Tom Mainelli, Research Director of Tablets, explains:
Microsoft's decision to push two different tablet operating systems, Windows 8 and Windows RT, has yielded poor results in the market so far. Consumers aren't buying Windows RT's value proposition, and long term we think Microsoft and its partners would be better served by focusing their attention on improving Windows 8. Such a focus could drive better share growth in the tablet category down the road.