Most digital based currencies come and go, but it seems that Bitcoin may just stick around for a while. As of this morning, a single Bitcoin is worth about $48, which equates to a 250 percent rise in value since January.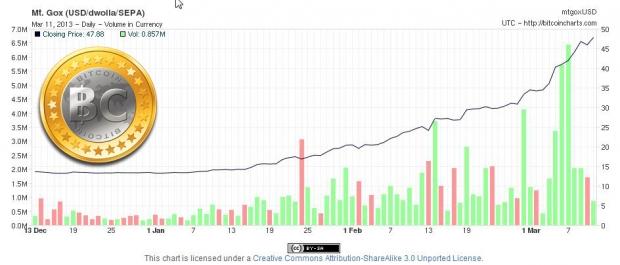 250 percent growth in two months in any financial market is unprecedented, and is sure to make some people very wealthy if they can figure out how to convert those digital dollars into physical assets. In just one year the humble Bitcoin has risen 800 percent or a whopping 54,900 percent since its launch back in 2011.
No solid reason for the massive growth has been pinpointed at the moment, with speculators stating that it is due to high profile sites like Reddit who now accept donations in the digital currency. Others say that it is a matter of investors trying to capitalize on the fast paced growth Bitcoin has seen.
My advice is to beware in investing in an unregulated currency. There is no measures in place to prevent the value from dropping several hundred percent at a moment's notice, for instance.