Auction for Google Glass on Ebay pulled after price shoots past $15k
An auction for a pair of Google Glass appears on Ebay, is pulled after the price reaches $15k+
Published Wed, Feb 27 2013 4:29 PM CST
|
Updated Tue, Nov 3 2020 12:24 PM CST
Unfortunately for those who missed the Google Glass pre-order, there is really only one other way to get a headset before everyone else: buy one from someone who pre-ordered a set. Since the competition to win a chance to buy a pair ends today, you're basically left waiting for the public release or buying a pre-release product from one of those lucky few who have purchased one already.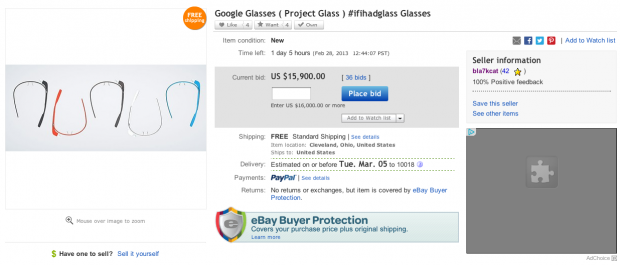 One such person put up an auction on Ebay, which has now been pulled. The auction started at $1,500, the sunk price for the headset, though it quickly skyrocketed to over $15,000 before being pulled. It's not clear whether the user pulled the auction or whether Ebay and/or Google had something to do with it.
From the auction's description:
I've been selected as an early adapter for Google's upcoming release. you are buying a brand new unopened pair of Google's Project Glass glasses. i will be personally attending and picking up my pair in either Los Angeles, or New York at Google's Project Glass launch event, which will take place some time after Feburary 27th.
Is it really worth 10 times the asking price? I'd say no, but there are people who have plenty of money laying around that they could drop on something like this.
Related Tags