It looks like the US skies are about to get a little scarier, with next-generation military drones being unveiled by a top US manufacturer. These new unmanned aerial vehicles (UAVs) will sport an ultra-light laser, which is capable of reportedly destroying an object at the speed of light - yikes.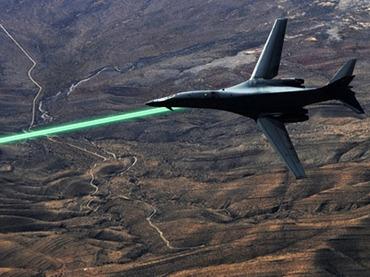 Someone close to the High Energy Liquid Laser Area Defense System (HELLADS) told Time magazine "it would give us an unlimited magazine".
The Defense Advance Research Project Agency (DARPA), over the last four years, have handed contractor General Atomics over $60 million to develop, and then scale the HELLADS project, which contains a very powerful 150kW laser. Lasers available at that strength contain the power to destroy an incoming rocket or plane, but are very big and heavy - meaning they're only capable of being deployed on stationary defense systems.
But the new HELLADS system, which DARPA says is in the "final development stage" is much, much lighter. Weighing in at just 750kg, it is capable of being attached to a UAV and opens up a plethora of options for aerial deployment. A perfect suitor would be UAVs.
The lasers aren't capable of firing through clouds or smoke, and requires a physical recognition of the device before the death-from-above laser can do its work. This still doesn't calm the mind knowing that there will soon be some Star Wars-like technology over US citizens' heads "defending" them.
Read more on HELLADS at the source.