Nexus 4 sells out in less than an hour
Google's upcoming Android 4.2-powered Nexus 4 sells out in less than one hour.

Published Tue, Nov 13 2012 12:31 AM CST
|
Updated Tue, Nov 3 2020 12:26 PM CST
Based in Australia, at the time of writing this, it is 4:11pm in my state (South Australia). The Nexus 4 was set to go on sale "Tuesday 13th of November", which was 16 hours ago for me.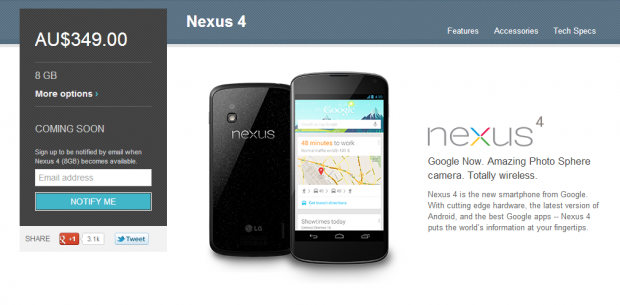 This morning I woke up, and starting my round of work for TweakTown, keeping the Nexus 4 order page open. Every time I finished a piece of news, I'd check back and refresh the page, after a few times the "notify me" turned into "order now". I clicked it with anticipation and filled out the details for my credit card and scored a Nexus 4.
I sat back thinking, do I really need this - as I get some seriously bad buyers remorse sometimes, but I think this is definitely worthy of replacing my Galaxy S II flashed with a customized ROM (Cynanogen Mod 9). I then had fellow TweakTown-er Matthew Wu tag me on a post on Facebook telling me the Nexus 4 had sold out - oh really!
The Nexus 4 had sold out in under an hour! Checking around, Gizmodo have written about it, with some user comments saying that after 20 minutes they couldn't order the 16GB version. Wow.
Well, I scored one and I can't wait - so be sure to check back here next week for a review. The current ETA given is 3-5 business days, and give us another few days to work through a review of both Android 4.2 Jelly Bean and the Nexus 4 itself.
Related Tags