Steve Jobs envisioned the iPad nearly thirty years ago
29 years ago, the late Steve Jobs envisioned what would eventually be known as the iPad.

Published Tue, Oct 2 2012 9:31 PM CDT
|
Updated Tue, Nov 3 2020 12:26 PM CST
We know that Steve Jobs was a visionary, as he is constantly described as such, and nearly a year after the Apple co-founder died, historians have found some information that would confirm he truly was a visionary.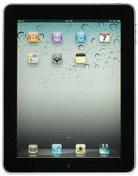 The Next Web writes about a speech Jobs gave nearly thirty years ago in 1983 at the Center for Design innovation. After this speech, Jobs gave a question and answer session that covered a wide variety of topics, where Jobs talked about a "computer in a book", where a user could learn how to use it in just 20 minutes:
Apple's strategy is really simple. What we want to do is we want to put an incredibly great computer in a book that you can carry around with you and learn how to use in 20 minutes. That's what we want to do and we want to do it this decade. And we really want to do it with a radio link in it so you don't have to hook up to anything and you're in communication with all of these larger databases and other computers.
Well, that's quite the statement, isn't it? It took Apple a lot longer than a decade, but hey, look at them now. The iPad dominates the tablet industry.
Related Tags