iPhone 4S has 3x higher radiation output than Galaxy S3
According to Tawkon, the iPhone 4S releases 3x as much radiation as the Galaxy S3.
Published Mon, Jul 23 2012 10:31 AM CDT
|
Updated Tue, Nov 3 2020 12:27 PM CST
A company that you've probably never heard of has released an infographic that shows the radiation output for five different phones. The higher the output, the worse it is for your health. The FCC has a limit of 1.6W/kg and the iPhone 4S isn't too far away from that number. On the other hand, the Galaxy SIII does considerably better.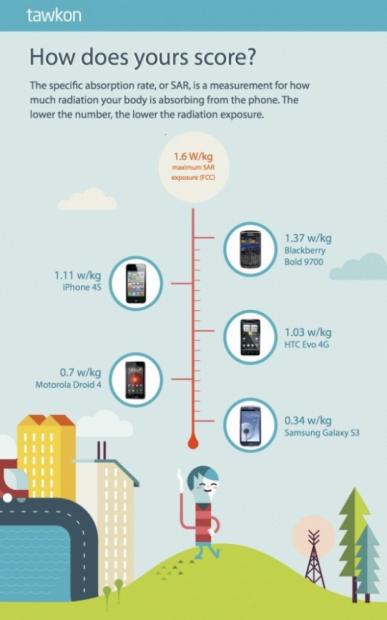 The company in question is Tawkon, a company that released an app on iOS and Android which shows how much radiation your phone is emitting. Apple, of course, quickly removed the app since it didn't make the iPhone look very good. The app is still available on the Google Play store if you would like to check out your device.
According to the infographic, the BlackBerry Bold is one of the worst phones you can buy, in terms of radiation, as it is the closest to the legal limit imposed by the FCC. The iPhone 4S comes in second with a SAR rating of 1.11W/kg. The Samsung Galaxy S3, however, comes in with only .34W/kg, more than three times less than the iPhone 4S. If you prefer to keep your brains raw, you might want to rethink your phone choice.
Related Tags