Think your home internet connection is fast? How about your work connection? How about you try 4700Mbps on for size. That's the new speed that has been reached by a German ISP using existing cable network infrastructure. This speed is incredible considering that most PCs only feature Gigabit Ethernet and this would manage to flood that.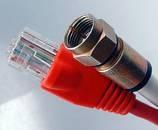 Kabel Deutschland, a German cable operator, is claiming to have created a real-world download speed of 4,700Mbps. This ins't theoretical either as they are claiming this speed in a real-world test. Let's see just how fast that is. Four Gigabit connected computers would be unable to max the bandwidth available.
More incredibly, a connection of that speed, if you were able to use it all, could download a full 4.7GB DVD in just a mere 8 seconds. This title isn't the fastest real-world connection, as someone already provided a 40Gbps fiber connection to a residence, but this does use the existing cable networks. The test was carried out to test an upgraded network using the 862MHz spectrum, channel bonding, and the EuroDocsis 3.0 standard.
Lorenz Glatz, the CTO of Kabel Deutschland, said that "the Schwerin field test shows that an 862MHz upgraded cable network is able to broadcast download speeds of up to 4.7Gbps. Using this speed, a DVD could theoretically be downloaded within eight seconds," he continued, although, "current standard laptops or modems cannot even process these high speeds. It will take many more years until users find online services and web content that need[s] a download speed of up to 4.7Gbps."