Apple brings 'free app of the week' to App Store
Apple appears to be starting a 'free app of the week' offer in the App Store similar to Amazon.
Published Fri, May 25 2012 11:34 AM CDT
|
Updated Wed, Mar 10 2021 1:19 PM CST
Amazon has had a feature like this for sometime and it looks as though Apple is finally following suit. It's no surprise that iOS users like to save money just as much as Android users who get this feature from the Amazon app store. The only announcement regarding this is a tweet by Apple, so this could be a one time thing, but I doubt it is.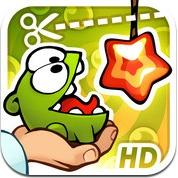 The tweet by Apple says "Cut the Rope: Experiments is our #FreeAppoftheWeek. Go to the App Store for your free download. tw.appstore.com/uUj" so I'm going to guess it will be a continuous thing going forward. To go along with this, the description of the app says "***FREE FOR A LIMITED TIME***".
The app itself is actually a pretty fun game. I've played it before on a Windows 7 tablet that was running Windows 8. The object of the game is to cut various strings and manipulate objects to get the piece of candy over to the monster. While I'm not sure I would pay for the app, I'd definitely take it if it was free as it is now.
Related Tags