Climate change has benefits, England moves 60ms closer to Japan
England moves 60ms closer to Japan via new fiber cables ran through the freshly melted Arctic.
Published Wed, Mar 21 2012 11:18 AM CDT
|
Updated Tue, Nov 3 2020 12:29 PM CST
Climate change has not resulted in all bad, it would appear. Thanks to the climate change-induced melting of the Arctic sea ice, the Arctic ocean is now navigable by ship. This, in turn, is allowing for new fiber cables to be run at the bottom of the sea. The ultimate result of this is that England is digitally moving 60ms closer to Japan. In other words, there will now be 60ms less latency in the internet connection between England and Japan.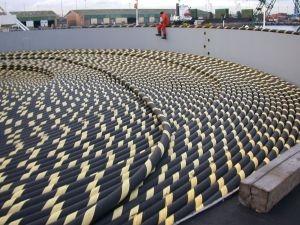 These new lines are good news for a wide variety of reasons. The current cables take a longer route, and traverse some of the heaviest traveled shipping lanes. This means that a ship who drags its anchor in the wrong spot could easily kill the backbone that links most of the world. Additionally, these cables are shorter, resulting in lower latency, as previously mentioned.
Another cable line is going to be laid following the North American coastline, instead of the Russian coastline. This will make connections into Canada, and ultimately reach Japan. The Russian Trans-Arctic Cable System (RUTACS) will be made of 6 pairs of fibers with a 1.6 Tbit/s capacity per pair, and the minimum latency between London and Tokyo will be 76.58 milliseconds. The North American route will have a total bandwidth between the countries will of 6.4 Tbit/s, with latencies between London and Tokyo of 168 ms.
Related Tags