Mozilla have just pushed out Firefox 10 to the masses, with some new features, HTML5-based features, as well as some nifty Developer tools and the usual fixes and improvements. First up, the forward button is gone, well, kinda, it does not show up until you've clicked back - then the forward navigation button will show itself.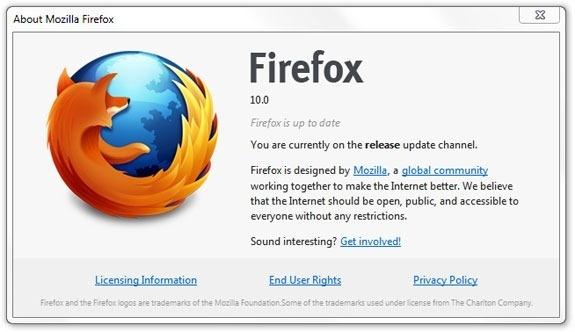 Mozilla have said that most add-ons are now compatible with new versions of Firefox by default, anti-aliasing for WebGL has been implemented into Firefox 10.0 as well as CSS3 3D-Transforms now being supported. HTML5-wise, we have the new element for bi-directional text isolation as well as supporting CSS properties. Not only that, but Full Screen APIs now allow you to build a web application that runs in full screen.
Developers get some lovin', with Mozilla adding IndexedDB APIs that more closely match the specification, as well as an "Inspect tool" with content highlighting, and also a new CSS Style Inspector. Some of the problems fixed include a Mac OS X-only problem, where after installing the latest Java release from Apple, Firefox used to crash when closing a tab with a Java applet installed, this is now fixed. Also another problem where some users experienced a crash when moving bookmarks, has been fixed.
Download Firefox 10.0, here.