Hackers continue attacking Israel, begins to get serious
Hackers continue assault on Israel, leak out credit card details everyday.

Published Sun, Jan 15 2012 9:26 PM CST
|
Updated Tue, Nov 3 2020 12:30 PM CST
Last Friday, a group of purportedly Gazan hackers defaced Israel's Fire and Rescue Services website. They didn't just do any old hack, but added a "death to Israel" message on the website and a tweaked picture of Israel's Deputy Foreign Minister, Danny Ayalon, where they superimposed foot prints over his face.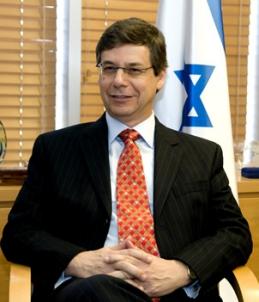 Ayalon is the public official responsible for a strongly worded statement denouncing hacking, likening it to terrorism and threatening (bad move) that:
Israel has active capabilities for striking at those who are trying to harm it, and no agency or hacker will be immune from retaliatory action.
Now, I'm sure you can imagine that the hackers were not happy with Ayalon's choice of words. The statement was made as a response to a cyber attack against Israel where hackers claimed to have taken 400,000 "Zionist" credit cards, including addresses, names and Israeli ID numbers (like Social Security). It has been reported that at least several thousand of those credit card numbers were verified as legitimate cards.
The group have more card details to release, according to 0xOmar, the Anonymous hacker who took responsibility for the attack. He claims that he will continue to release Israeli credit card numbers everyday:
From now, I shout to all Israeli people, daily I'll publish 200 credit cards of Israeli people. All people who's interested in fresh working credit cards, join our movement, subscribe to our page to receive daily 200 credit cards. Using this method, Israeli banks shred all sites in a day and people will be able to purchase all they want.
He states he did not deface the Fire and Rescue Services website, but offers them a pat on the back. In his pastebin statement, 0xOmar made the following remarks:
I create an exploit page using a browser based exploit, I email URL and put hidden iframe to my exploit page, I infect a lot of PCs around world with my bot, my bot is coded in C++ all by myself, it have a functionality in addition to all features of other bots, it has an encrypted SOCKS5 protocol, I can see live bots in my administrator server, I use them to connect to other and from there to another and ... I do it sometimes 2 times, sometimes 4 times, it depends on my hurry. ISPs doesn't store details of connections on those ports, so don't waste your time, it's for Mossad.

I use a really complicated hand-made method for hiding myself, so if you reach to Dubai, Mexico, Riyadh, Minsk, Helsinki, New York, Tel-Aviv, Haifa, Tokyo, Moscow, etc. excellent! You found one my my poor victims.
The second part of 0xOmar's message on pastebin, gets quite obvious:
Let's gather together and join this anti-Israeli hacking movement.

Let's hack Israeli shopping websites and publishing customer data online.

Let's hack Israeli military websites and publish their sensitive and hidden information.

Let's hack Israeli military contractors and publish their projects details.

Let's make cyber world dangerous for Israel.

Let Israel suffer from our attacks.

Let's make them cry like they made Palestinian children cry.

Let's help to make Palestine free, let's end Israeli occupation.

From here, I send my thanks to Gaza hackers who have successfully hacked stupid Danny Ayalon website.
Related Tags