Netflix shares have fallen 61%, also lost 800,000 subscribers
NetFlix not only lose 800,000 subscribers, but share prices have been cut by over half.

Published Tue, Oct 25 2011 2:20 AM CDT
|
Updated Tue, Nov 3 2020 12:30 PM CST
Netflix have had a very bad time lately, with them admitting on Monday that they lost more customers than expected in the third quarter, which stems from an issue to divorce rentals of DVDs from streaming video services, and they've also predicted that subscriptions for DVD delivery will sharply decline in the current period.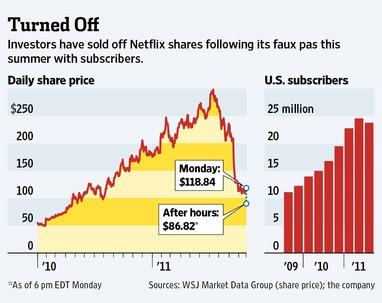 Netflix have also projected that they'll begin to lose money for a few quarters starting in the next period, because of costs associated with their expansions in both the UK and Ireland, also announced on Monday. Investors... not so happy. It was a near-instant reaction with share prices dropping once again. They had already fallen 61-percent from their all-time high in mid-July, falling 26-percent more in after-hours trading Monday, following the quarterly report.
Netflix's market value was $16 billion and has now plummeted to just $4.6 billion, all in the space of three months. Netflix have also stated they've lost roughly 800,000 subscribers in the third quarter, which ended with 23.8 million U.S. customers, this is after years of a steadily increasing subscriber base.
The company did however see quarterly earnings jump 63-percent to $62.5 million, while revenue rose 49-percent to $821.8 million. Netflix have forecasted a fourth-quarter profit of $19 million to $37 million and earnings per share of 36 cents to 70 cents. This is below Wall Street's expectations.
Netflix's current downward spiral is mostly contrived of two moves: in July, Netflix boosted the price of a combined online-video and DVD-rental package by 60-percent, from $10 per month to $16 per month. Then, last month, Netflix announced it would spin off its DVD-by-mail service into a separate business named Qwikster, while keeping Netflix as an online video-only company. Qwikster would involve two different bills and websites, but the plan was scrapped in just three weeks.
Netflix's chief executive, Reed Hastings, admits they moved too fast with the Qwixster idea, but says that the subscriber losses are mainly due to the price increase. He does admit that the price increase was not properly explained, which he says is due to the rising costs of mailing DVDs and acquiring content for the online-video service.
He adds that there will be no promotions to bring back lost subscribers, with "the focus is on bringing back our reputation and brand strength, but it won't happen through grand gestures", says Hastings.
Related Tags