eBay's Q3 revenues are up 32%, meets analysts expectations
eBay's Q3 revenues up 32%, to $3 billion compared to the same period last year.

Published Wed, Oct 19 2011 8:51 PM CDT
|
Updated Tue, Nov 3 2020 12:30 PM CST
eBay have met expectations of analysts in Q3 with revenues increasing 32-percent to $3 billion compared to the same period last year. eBay's net income sat at $490.5 million, or 37 cents per share. Non-GAAP revenues, which eliminates the impact of several recent multi-million dollar acquisitions, totaled $682.2 million, or 48 cents per share, meeting analyst expectations perfectly.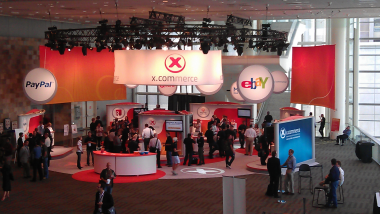 Revenues estimates were high, with them ranging from $2.25 billion to $2.9 billion which is according to a poll of analysts by Thomson Reuters. Just before the earnings were released, eBay's stock was down 80 cents, or 2.4-percent to close at $33.07, and in after hours, the stock continued the downward motion dropping another 4.3-percent. Reasoning behind this isn't 100-percent, but it could be its revenue outlook for Q4, which should be its busiest because of the holidays.
Q4 expectations from eBay are quite good, with revenue expected to be in the range of $3.2 to $3.35 billion with non-GAAP earnings per share between 55 and 58 cents. eBay have said that full-year guidance included revenues between $11.5 and $11.6 billion, and non-GAAP earnings per share to sit between $1.98 and $2.01. GAAP earnings per share are higher given a one-time gain on the sale of Skype to Microsoft.
eBay is reportedly working hard to become a technology site rather than a marketplace that has to compete with companies such as Amazon.
Related Tags