RumorTT: Ultrabooks to sport 2560x1400 HD panels?
RumorTT: Intel Ivy Bridge-based Ultrabooks to sport super-high 2560x1600 displays?

Published Thu, Oct 6 2011 12:00 AM CDT
|
Updated Tue, Nov 3 2020 12:31 PM CST
RumorTT is back! RumorTT was taking a holiday on a Jamaican beach, sipping cocktails and sunbathing all day - because, its a boss and a ladies man. But, RumorTT is back into full swing with a pretty juicy rumor that Intel's upcoming Ivy Bridge Ultrabooks might sport 2560x1400 displays. This would be a huge gain for users who work with photographs, documents or many windows all at once. During last months IDF, there were a bunch of interesting disclosures and strategic directions unveiled, especially when it came to Intel's mobile product expansion.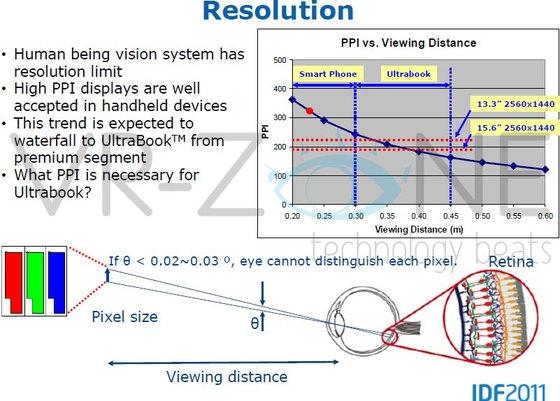 What is the most interesting from that, is that 13.3-inch panels with a resolution of wait for it, 2560x1440 pixels could make their way onto Ultrabook screens by near year. Even the next-gen iPad which is rumored to have a 2048x1536 display is indeed available, but very expensive. With similar pixel density, a 2560x1400 13.3-inch screen would not be cheap, either. If we do see these super high-res panels on Ultrabooks, expect them to be expensive.
Considering that most 13-inch notebooks have 1366x768 "HD" ready displays, this would be a huge jump. Personally, I can't stand anything less than 1920x1080 on a screen, but each to their own. I'm a resolution and frame rate whore, and I know it.
There should also be a hit on battery life too as the panel electronics and backlights required to drive higher-resolution displays will suck down more wattage than existing designs. But, they will be thin with Ultrabooks just 3mm thick. No mention of IPS, TN or another form of panel technology though. Just the numbers 2560x1400 are enough to turn me on. I'll take a new MacBook Pro with a 17-inch, 2560x1400 display, yesterday, thanks.
Related Tags