Sony have previously said their next-generation portable gaming machine, PlayStation Vita, will launch globally by the end of the year and have said more specifically, that'll it'll be in the fall. Blockbuster have jumped the gun, with IGN nabbing their flier which suggests the PS Vita will hit UK retail shelves on Friday, October 28, 2011. The advertisement suggests that both Vita models will arrive in Europe after two months. Will we see a US or Japan release at the same time? We don't know.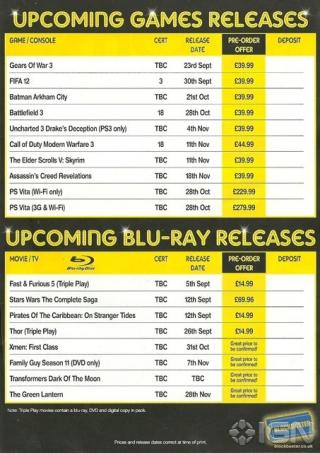 As we can see from the above image (if true), the Vita will be £$229.99 for the Wi-Fi only model, with the 3G & Wi-Fi Vita at £279.99. Pricing doesn't seem too bad considering Sony has promised a PlayStation 3-level experience, as the Vita sports a quad-core ARM Cortex A9 processor with a multi-core PowerVT SGX543MP4 graphics chip that is four times as fast as the PSP. The Vita will come with a 5-inch OLED screen with a resolution of 950x544, two micro-analog sticks to simulate the Dual Shock experience, front and rear-facing cameras, as well as a two-finger multitouch pad on the back of the Vita unit.
Sony is hoping that the front and rear touch screens will offer new three dimension-like motion gameplay experiences never before seem on any device through "touch, grab, trace, push and pull" finger motions. A Sixaxis equivalent with a gyroscope and accelerometer is also available to let players control games by moving and tilting the Vita itself.