PopCap's Plants Vs. Zombies Hits Nintendo DS
Plants Vs. Zombies hits DS! Braiiiiiiiiiinsssss.
Published Wed, Apr 27 2011 7:14 PM CDT
|
Updated Tue, Nov 3 2020 12:31 PM CST
Not a huge story, but if you've ever played this game you know how awesome it is.
PopCap
, makers of games like the insanely addictive office favorite BeJeweled, have released their highly successful and original title Plants Vs. Zombies for the Nintendo's handheld.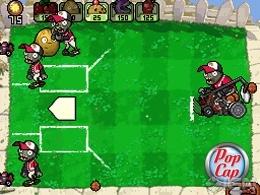 Basically, zombies are trying to attack your house. Whether it's your front door, your backyard (in which you somehow install a pool halfway through the zombie apocalypse), or your roof, the zombies are out to get you. And they'll attach you day, night, even when it's very foggy and visibility conditions are terrible.
Especially
when visibility is terrible, come to think of it. And they're in wetsuits, dressed like Michael Jackson from Thriller, riding zambonis and bobsleds, and totally out to eat your brains. The only thing standing between you and them is an arsenal of anthropomorphic plants ready to stop them, literally, in their tracks. From
IGN's screenshots
, it looks as though the DS version even gets some new levels.
PvZ made PC Mag's top
75 iPad apps list
, of which only 15 were games. If you've played this epic "stave-off-the-hordes" game, you know why it did so well. It's extremely addictive, and with all sorts of clever achievements, easter eggs, and challenging game formats, this will occupy your DS for a very long time.
Related Tags