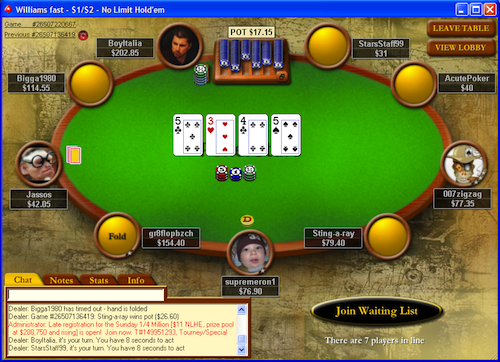 Eleven defendants, including the founders of online gambling sites PokerStars, Full Tilt Poker and Absolute Poker are the subject of a United States Department of Justice indictment, unsealed today. The indictment charges the defendants with bank fraud, money laundering, and illegal gambling offenses. Authorities in New York also issued restraining orders against more than 75 bank accounts, and seized five different internet domain names. Damn, that's cold.
Evidently, Manhattan U.S. attorney Preet Bharara has charged Isai Scheinberg and Raymond Bitar, founders of PokerStars and Full Tilt Poker, respectively, and nine other defendants with fraudulently scheming to thwart a 2006 antigaming litigation that prevents US banks from processing online poker payments. Bharara said in a statement:
As charged, these defendants concocted an elaborate criminal fraud scheme, alternately tricking some U.S. banks and effectively bribing others to assure the continued flow of billions in illegal gambling profits. Moreover, as we allege, in their zeal to circumvent the gambling laws, the defendants also engaged in massive money laundering and bank fraud
This is some pretty serious stuff, poker dudes. I have multiple friends that are professional poker players and spend a good deal of time online. The saddest thing about all of this is that the fallout from some greedy and shady dudes doing greedy and shady things is going to hurt the people that actually matter- the players.