April Fools: Google Launches Gmail Motion
Google satirizes Kinect by introducing Gmail Motion, body language controlled email client.
Published Fri, Apr 1 2011 11:28 AM CDT
|
Updated Tue, Nov 3 2020 12:32 PM CST

They almost had me until the guy in the video mimes licking a stamp and placing it on an envelope, where the "envelope" is his lifted knee. And it just gets better from there. Google might be the most infamous April Fool's Day prankster since they began the tradition in April of 2000 with the
MentalPlex
Google was no less enthusiastic about 4/1/2011 then they've been in past years, coming up some hilarious ideas to "announce" to the world.
The two that caught my eye were the "
Comic Sans For Everyone
" extension for Chrome and the brand-new "
Gmail Motion
".
The Chrome extension is pretty self-explanatory: Google announced that after rigorous testing of 41 different fonts, Comic Sans was the most eye-catching font. The picture below is a fake "heat-map" schematic that shows that users read every single piece of Comic Sans text on a page, every time.

Gmail Motion is a new interface for Gmail that does away with antiquated knowledge like the keyboard and mouse. Probably a stab at Microsoft's Kinect and everyone's move as of late to integrate natural movement recognition, Google shows off some highly amusing examples of what your Gmail client will register as language. Throw in Dennis Tooley, a Paralanguage expert and Loretta Klayman, an Environmental Movement Specialist in the instructional video (as well an incredibly deadpanned office zombie acting out the movements with no hint of embarrassment whatsoever), and you've got yourself a pretty good roast.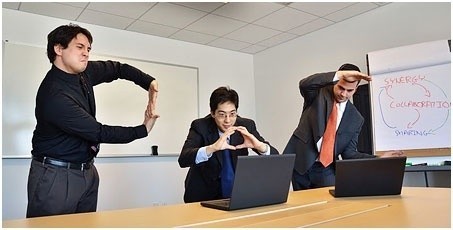 Favorite quotes:
No longer will people be required bend to the will of technology. Instead, technology will now bend to our will.
- Loretta Klayman
[It is commonly known that 80% of communication is non-verbal. Gmail Motion not only accepts this fact - it embraces it./QUOTE] -Dennis Tooley





The best thing about these yearly pranks is that they're not wholly unbelievable. We've seen more asinine announcements, large tech firms have made grander flubs, and when it really comes down to it, if any entity could do things like put an office on a moon or read your mind, it would probably be someone like Google.

Bravo, Google! I'm installing that Comic Sans extension right now- if you ever want to see your own eyes bleed, I recommend you do the same.

Related Tags