LinkedIn Today Told Me About LinkedIn Today. Today.
LinkedIn Today unveils LinkedIn Today on LinkedIn Today.
Published Thu, Mar 10 2011 2:49 PM CST
|
Updated Tue, Nov 3 2020 12:32 PM CST
LinkedIn, everybody's favorite professional social media networking site unveiled its new "News" feature (still in Beta) today in conjunction with a press conference. "Today" is part of a suite of new features that the already successful startup is rolling out in the near future to further endear themselves to social professionals.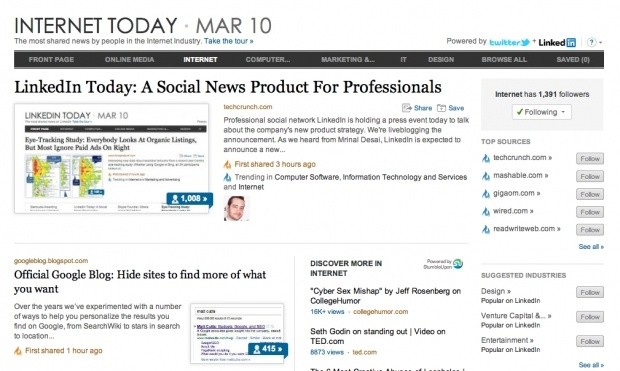 [I hope everyone appreciates the Inception-level of meta-irony here]
"Today" utilizes a LinkedIn user's already existing professional network and the industry in which that person currently works to share relevant and current news. It is yet another information aggregator, but there's not a heavy degree of customization required if you've already a LinkedIn user. And unless your industry is Aeronautical Internet Pancakes, "following" relevant industries is as easy as the click of a button in a conveniently located side bar.
The other two features are "InMaps", a visual depiction of your professional network, and a "Skills" interface that tells you what people are using what skills in which industry.
This last one doesn't seem that exciting. But, I am definitely excited to replace or otherwise enhance those weekly/daily email digests/alerts I get from LinkedIn.
Here's a somewhat campy promotional video from LinkedIn that made me laugh:
Related Tags