RumorTT: iPad 2 to be unveiled on March 2?
Apple's iPad 2 to be unveiled next week? Underwear of all Apple-fanatics has just changed color?

Published Tue, Feb 22 2011 6:24 PM CST
|
Updated Tue, Nov 3 2020 12:32 PM CST
Rumor has it Apple are holding an event on March 2 and included in that rumor is the unveiling of the highly-anticipated iPad 2. All signs are pointing toward the iPad 2 being thinner and should sport an improved display.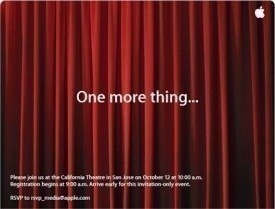 It should also include a front-facing camera which would come hand-in-hand with Facetime support. There are also other rumors that the iPad 2 will include Qualcomm's multimode chips that will allow it to run on both GSM and CDMA-based networks around the world. Apple will face fierce competition this time with Google's Android OS powering virtually all other tablet-based products.
Yes, Apple sold 15 million iPad's since it has gone on sale, but nearly all kings are eventually dethroned. This is only good news for tech-fans, as it causes increased competition and more product offerings and in a tech world now virtually dominated by Apple, this is only a good thing.
Related Tags