Geek builds camera rig to see himself in third person
DIY third person camera build.
Published Mon, Dec 27 2010 1:00 PM CST
|
Updated Tue, Nov 3 2020 12:32 PM CST
This is a really kooky project that a guy has cobbled together DIY style. I am not sure why you would want to be able to see yourself in third person other than because it would allow you to see if your butt looks fat in your favorite jeans. I am not a third person fan in shooters; much less in real life but this strange project is sort of cool.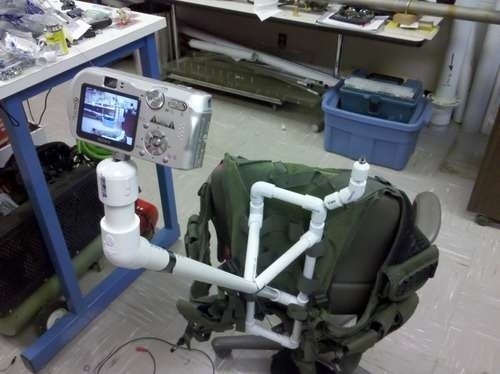 A guy gong by BigRedRocket on Instructables has used a backpack, a cheap digital camera, video goggles of some sort, and some PVC pipe to build a wearable camera that shows the user and what the user sees for above and a bit behind them as they move. The builder says that you can use any digital camera that will send live video out including some camcorders.
The finished product looks really weird and I think that some folks might thing you are up to no good if you build one and then try it out. It looks like something a mad bomber would use in a movie to torment a victim. I think I would just go with one of the action cameras on the market made for filming people on hikes or biking rather than wearing this. Check out the video of the system in use below.
Related Tags