LevelUp offers cool Rock Band Storage ottoman
Easy storing for Rock Band gear.
Published Wed, Nov 17 2010 2:00 PM CST
|
Updated Tue, Nov 3 2020 12:33 PM CST
I really like to play Rock Band with my kids and friends every now and again. The thing I hate about Rock Band though is that the controllers that go with the game to take up lots of space. I have two-guitar controller, the drums, mic, drumsticks and other stuff that I have to find a place to stash after we are done playing. That can be a challenge and typically I end up with the drums upstairs, the drum sticks under the bed, and guitar controllers other places.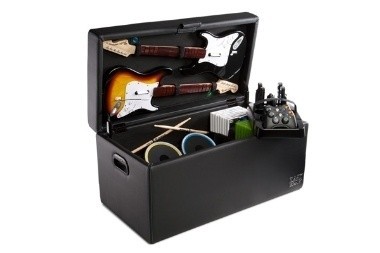 If you have the same issue storing and finding all your Rock Band gear, LevelUp has a great new storage device specifically made for Rock Band hardware. The storage ottoman is called the Rock Band Storage ottoman and has enough space inside for you to store your unassembled drum kit, games, standard controllers, and a lot more. The lid has Velcro loops for holding two guitar controllers.
The drums store in the bottom of the ottoman and removable trays hold video games and game pads for the console there are even a couple pockets to hold the drumsticks. Those drumsticks are the things I can never seem to find. There are also other pockets for the mic and other items. The ottoman is made from hardwood and has faux leather cover. You can get the basic black version called Back in Black for $89.99 and the Skulls and Snakes version is $179.
Related Tags