Windows Phone 7 goes on sales in the US
Microsoft have lift off for Windows Phone 7 in the US.

Published Mon, Nov 8 2010 6:20 PM CST
|
Updated Tue, Nov 3 2020 12:33 PM CST
Microsoft are launching Windows Phone 7 a little differently than other manufacturers - it goes on sale today across the USA in AT&T and T-Mobile stores. At the time time Microsoft are showing off the results of a survey where it shows surprising ways mobile phones have become a part of the fabric of Americans' lifestyles.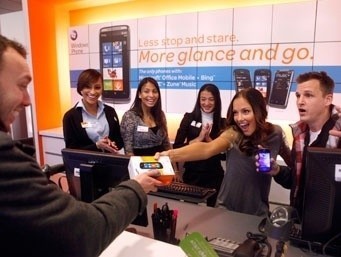 This point is made by showing 55 percent of all phone owners surveyed aged between 18 and 35 have used their phone in a bathroom. To commemorate the US launch of Windows Phone 7, Microsoft is challenging consumers to get a grip on their mobile phone habits.
Below, I have a few details from this survey - interesting results to say the least!
Although consumers love their phones, there is growing annoyance with the distracted behaviors people exhibit while their heads are buried in their phones. Most U.S. adults indicate they have witnessed examples of bad mobile phone behavior, yet relatively few have admitted to engaging in such behavior themselves. Key findings from the study show the following from the surveyed adults:
Seventy-two percent identified bad mobile phone behavior as one of their top 10 pet peeves, but only 18 percent of mobile phone owners admit they are guilty of displaying such behavior.
Nineteen percent of phone owners between the ages of 18 and 24 have dropped their phone in a toilet.
Forty-nine percent of adults between the ages of 18 and 24 have tripped or walked into something while walking and texting or e-mailing on their mobile phone.
Sixty-nine percent of mobile phone users between the ages of 18 and 34 have used their phone while in bed.
I was going to disagree with the dropping their phone in the toilet dot point - but I have a friend who has done this, so it DOES happen.
Better Design Encourages Better Behavior?
By reimagining the way people access information on their smartphones, Windows Phone 7 is designed to help people perform common tasks more easily and faster. In an effort to root out bad phone behavior and test the theory that better phone design leads to better phone behavior, TV personality Rob Dyrdek and actor Minka Kelly are currently traveling the country on an adventure to challenge people to change their relationships with the mobile phone. Consumers can follow the Windows Phone 7 Really Rally Road Trip online.
Celebrating Windows Phone 7
In celebration of the launch of the new Windows Phone 7, Microsoft and AT&T are giving thousands of fans the chance to see free concerts by Katy Perry in New York City and Maroon 5 in San Francisco. Fans need to visit select AT&T retail locations in New York and San Francisco for the chance to attend the exclusive concerts.
Methodology
The study was conducted by telephone Oct. 6-17, 2010, by Harris Interactive on behalf of Microsoft. Participants included 2,024 adults over the age of 18. Results were weighted for age, sex, race, education, region, number of adults and number of telephone lines in the household where necessary to align them with their actual proportions in the population. A full methodology is available.
Related Tags