ORIGIN Unleashes $22,799 PC-Xbox 360 Hybrid Gaming System
Origin release $23k gaming system, PC and Xbox 360 in one!

Published Tue, Sep 28 2010 8:07 PM CDT
|
Updated Tue, Nov 3 2020 12:33 PM CST
Checked your piggy bank lately?? Been doing the paper run for your neighborhood? Good. You'll need it for this beast.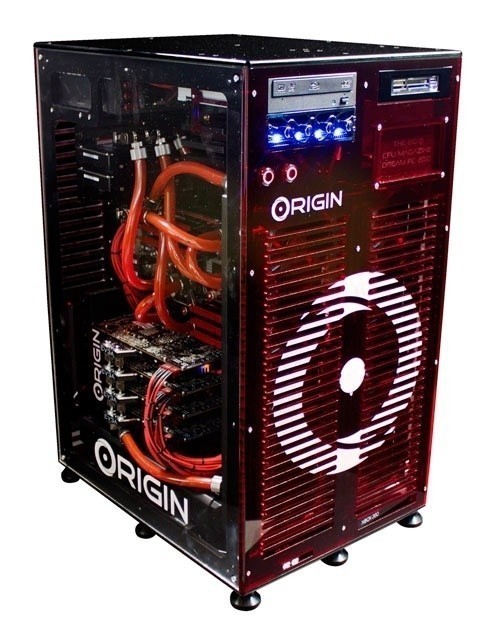 ORIGIN have revealed a $22, 799 PC-Xbox 360 hybrid gaming beast.
This thing is the absolute bees-knees of high end tech, kinda like Cold Rock ice-cream, it mashes together things that shouldn't be mashed together - but ultimately, it tastes awesome. Mixing a high end, overclocked, liquid-cooled PC with the popular Xbox 360 gaming platform is a pretty ingenius idea.
There's a few different models at different price-points, all specs are listed below.
The Big O fuses the capabilities of the fastest computing hardware on the planet, ORIGIN's expert overclocking, and a built-in Xbox 360 Slim to create the ultimate gaming weapon.
The Big O is the best gaming system money can buy, and it's now available in Australia. The starting configuration includes an Xbox 360 Slim built direct into the case, and ships for AU$10,699. For those wanting the absolute best configuration available in the world, it will set you back $22,799.
"The Big O will satisfy the demands of even the most power hungry gamer, but when you create the ultimate personal computer system it has to be designed to go above and beyond gaming," said Kevin Wasielewski, CEO and Co-Founder of ORIGIN. "From the hottest games on the market to digital video editing and 3D rendering you will have the power to perform at every level. To have the best you have to build using the latest in computer technology that guarantees unmatched performance and that is exactly what you get with The Big O."
"Wow, we can honestly say we've never seen a system like the Big O before," said Ujesh Desai, General Manager of the GeForce GPU business at NVIDIA. "The components selected by ORIGIN, including up to quad GeForce GTX 480 GPUs will definitely have gamers salivating for the win."
Absolute Power - With Intel's Xeon X5680 processors there is nothing you can throw at The Big O that will slow it down. Each X5680 features six-cores, twelve threads, supports ECC memory-and that's before we add a second CPU and overclock it to a lighting fast 4.3GHz. Add in up to 24GBs of Corsair GT 2000MHz memory and then dare any computer task to slow down your Big O.
Quad Damage - A strong core with excellent liquid cooling is the key to lasting performance and EVGA's GeForce GTX 480 FTW graphics cards delivers the best graphical power money can buy. This power is multiplied in a SLI multi-GPU configuration creating the most immersive visuals imaginable in gaming and beyond. The Big O provides the unmatched graphics performance that will shatter any benchmark thrown at it.
The X-Factor - To empower gamers with the most comprehensive gaming platform on the planet, ORIGIN integrates a liquid-cooled Xbox 360 Slim directly into The Big O gaming system. Every Big O system is strategically modified so the Xbox ports are easily accessible with liquid cooled processors for extreme performance. You can even game on the Xbox 360 while your computer is busy dominating whatever other task it is assigned.
Liquid Cooled to Perfection - ORIGIN keeps your Big O cool with its state of the art liquid cooling system that maximizes performance from the CPU, motherboard, graphics card and even the integrated Xbox 360 Slim. The ORIGIN custom liquid cooling system aggressively dissipates heat and eliminates fan noise ensuring your system remains cool and whisper quiet.
Related Tags