iPhone 4 made available at AT&T stores today
People still going in drives despite problems.
Published Jun 29, 2010 4:00 PM CDT
|
Updated Tue, Nov 3 2020 12:34 PM CST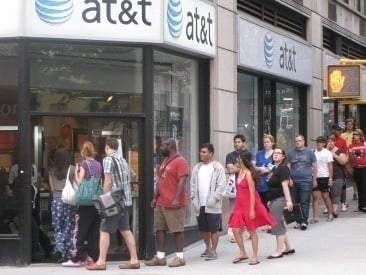 The iPhone 4 went on sale in AT&T stores today, at least for an hour or so. It seems all of the launch day gripes about reception and funky screens did not deter many as tons of people stood in line hours before stores opened to get their hands on Apple's latest toy.
At&T stores only sold iPhone 4s to fill preorders on last Thursday's launch day. People in lines were also given the option to get on a list for an iPhone 4 after more shipments were received, since in store supplies were gone from 30-60 minutes after opening for most stores. Fom some of the quotes reportedly taken from people standing in line, customers were willing to put aside some differences to lay their hands on the device.
"At this point I might as well wait. I really love the design of the Apple product. But it's just ironic that I am waiting at an AT&T store where I've received the worst customer service," said loyal Apple fan Dave Norfleet-Vilaro. Stefani Bennett, when asked about the reception issues that were reportedly plaguing the iPhone 4, replied, "It's not that big of a deal. I've always had crappy reception with my iPhones. I'll just get the bumper. It looks a little tacky, but if I have to, I'll buy it."
Related Tags