Foldable tablets? Copper nanowires could make it happen
Copper nanotechnology could make flexible displays, solar cells, and tablets happen.
Published Jun 12, 2010 12:38 PM CDT
|
Updated Tue, Nov 3 2020 12:34 PM CST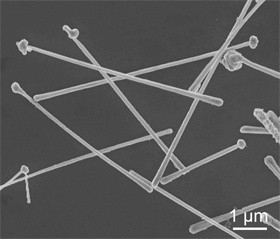 Ever wonder what it would be like to roll up or fold your iPad and put it in your pocket? Scientists at Duke University are trying to make something like that possible in the future. The indium tin oxide that currently connects the pixels in flat panel TVs, solar cells, and screens could be replaced by copper nanowires that are less brittle, more efficient, and much cheaper to produce.
Copper is used to make a transparent and conductive film of nanowires grown in a water based solution and controlled by adding chemicals. Similar technology has been used to make lightweight and bendable batteries out of paper.
Benjamin Wiley, assistant professor of chemistry at Duke University, released a statement saying, "Imagine a foldable iPad. If we are going to have these ubiquitous electronics and solar cells, we need to use materials that are abundant in the earth's crust and don't take much energy to extract."
Related Tags