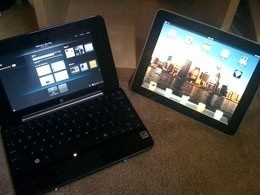 Retrevo, a consumer electronics site, recently surveyed 1,000 U.S. consumers and found that the iPad's popularity is taking a toll on netbook sales. When interested parties were asked whether they were planning on buying an iPad or a netbook 78 percent, or a little more than 3 out of 4, said they would choose the iPad while 22 percent favored a netbook.
Laptops are still staying popular with buyers as well, with 65 precent of people surveyed who were planning to make a mobile PC purchase this year said they would favor a regular laptop over a netbook. Those who did prefer the netbook over the iPad said that size was the biggest concern, with 55 precent preferring the smaller footprint. 20 percent of those said price was the major concern, and 19 percent showed battery life as the deciding factor.
While these numbers show a big preference to the iPad over netbooks, analysts are saying that the $200 or more price difference between the iPad and netbooks should not cripple the sale of netbooks this year. Jeff Orr, an analyst with ABI Research, reportedly said earlier this month that just one percent of potential netbook buyers would be impacted by tablets, like the iPad.