Seagate confirms development of 3TB hard drives
No support for 32-bit OS's, but cheaper 2TB prices.
Published Tue, May 18 2010 9:52 AM CDT
|
Updated Tue, Nov 3 2020 12:34 PM CST
We first heard a whisper
about a week ago
that Seagate have apparently been working hard at pushing the capacity barrier further with the 3.5-inch form factor and are looking to bring out a new enterprise level Constellation ES series of drives later this year with a whopping 3TB capacity.
Confirmation from Seagate themselves has now been given that the company is in fact developing 3TB drives for launch later this year. But as is the case with 2TB drives currently, being the top capacity model means a much less attractive GB per dollar ratio.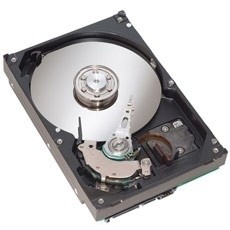 Another issue of the increased capacity has been mentioned as well; the need for a system that is able to fully understand the Long LBA (logical block addressing) standard. The requirements for that included the use of new supporting drivers, updated BIOS and a 64-bit copy of Vista, Windows 7 or modified versions of Linux. 32-bit users will be out in the cold.
The real big plus to a new capacity leading model means that the mass of existing 2TB drives on the market won't be top-end anymore, resulting in a significant price drop that puts them in reach of many more folks looking for big storage.
Related Tags