Zune HD meets the world today
In retail stores, but is it an iPod Killer?
Published Tue, Sep 15 2009 11:50 AM CDT
|
Updated Tue, Nov 3 2020 12:36 PM CST
The Zune HD launched today. This has been one of the most anticipated media players since the iPhone 3G S. I know that sounds really odd. But it is absolutely true. You see people are actually looking for someone to compete with Apple. Even current iPod/iPhone owners.
So what does the Zune bring that the iPod does not have? Well for starters it has an nVidia Tegra 600 under the hood. This new SoC has 8 cores that can dynamically adjust power to provide the longest battery life possible. It does this by powering down unused and unneeded cores to almost zero power usage.
But the Tegra also brings Open GL ES 2.0 720P playback and a host of other features. This is combined in the Zune with HD Radio, Wireless Sync (over WiFi) an AV dock that allows connection to an HD_TV through HDMI, native gaming support (this is nVidia we are talking about) and multi-touch.
When you combine this with the clean and simple user interface and DRM music from Zune you really do have the potential for an iPod competitor.
Many feel this is one of the reasons that Apple rushed to get the new Touch out without the camera instead of waiting to fix the rumored issues and releasing it later in the year.
It will be very interesting to see just how MS handles this new product. If they market this very nice product properly then Apple has every reason to be concerned.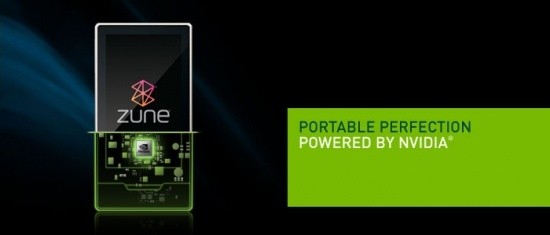 Related Tags