Microsoft Officially Drops Price on Xbox 360 Elite
Pulls HDMI cable out of the box.
Published Thu, Aug 27 2009 10:09 AM CDT
|
Updated Tue, Nov 3 2020 12:36 PM CST
The rumors about Microsoft dropping the price on the Xbox 360 Elite have come true. But the secondary rumor about the Xbox 360 Pro going the way of the Dinosaur also seems to fallen through a lttle.
According to Microsoft the new pricing will put the Elite at $299.99 a full $100 cheaper than before while the Pro will drop down to $249.99. These will continue to be sold until current supply is gone and then they will be no more.
The pricing puts the Xbox 360 Elite in line with Sony's new PS3 Slim. But according to MS that was not the plan. MS says that they had the price reduction in mind for the holiday season. They have also removed the HDMI cable from the packaging saying that their research indicates most people do not use them.
I am not sure about these claims from MS. They might be thinking of the Holiday Season but I have a feeling they are thinking about how well the Xbox will do against the PS3 Slim and Wii. As for the HDMI cable considering that HD content is now available from Xbox Live and more and more people are using HDMI on their home entertainment systems it does not seem to fit the current state of the market.
Another thing that is odd is the decision not to put in BluRay or a Browser. MS says this is because people can get HD content from Xbox Live but it seems to me that many people might see a BLuRay Player as a bonus. This was many people's reasons for getting the PS3 when it came out. It was the least expensive BluRay player and they got a console to boot.
As for the Browser, well MS says it would be awful. Of course Twitter and Facebook are ok just not the full internet. In the entire situation around the price drop is confusing, I get the feeling that MS is not being completely honest.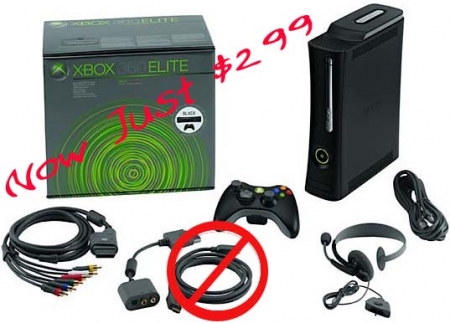 Related Tags