Tim Sweeney predicts the end of the GPU Roadmap
By 2020 3D Engines may be back in Software.
Published Mon, Aug 17 2009 11:55 AM CDT
|
Updated Tue, Nov 3 2020 12:36 PM CST
With the advent of possible new CPU manufacturing processes and materials come an interesting article saying that they GPU may reach its limit by 2020.
The article is not an Intel product (in response to nVidia's repeated claims that they CPU is dead). No this is from Tim Sweeney, CEO and Founder of Epic Games.
In a recent presentation Sweeney says that by 2020 developers will move away from the highly optimized GPU and push for more flexible code. Thie code will take advantage of parallel processing and move most hardware "fixed functionality" features to software.
The core argument is that processing technology will move forward considerably and that Intel will have success with Larrabee and also factors in nVidia move away from the traditional GPU. Instead working on a GPGPU style.
Sweeney also dives back in time to when many 3D Engines were rendered completely in software this includes games like UnReal, HalfLife and many others. He foresees a future where rendering engines will move back to software eliminating the need for highly specialized architectures and pipelines present in today's GPUs.
If everything can come together (including improvements in storage and memory) then we can expect to see some impressive changes to the PC as we know it in the next 10 years.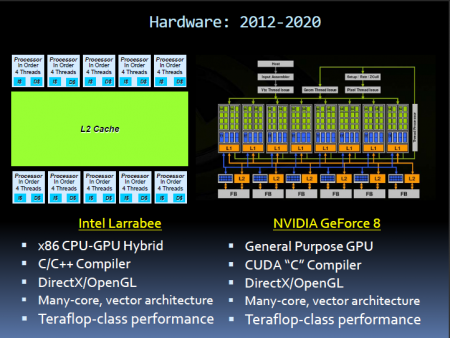 PR Deck
Source
Related Tags