Ads in games ruin the experience cause slowdowns
Not what gamers want anyway.
Published Tue, Aug 4 2009 9:56 AM CDT
|
Updated Tue, Nov 3 2020 12:36 PM CST
So what is the price of Advertising in Gaming? If you are a player of WipeOut HD then it means slow load times, poor performance and host of other problems. Of course to me it means much more.
When I purchase a game I pay for gaming content, this comes in the form of graphics, AI, sound, immersive game play and storyline. I will happily shell out as much as $60 for a good game. This is in addition to any upgrades to hardware I might need to make sure I can play the game properly. What I do not want is to have to deal with advertising in my game.
I despise the presence of ads in games as much as I hate FUD (Fear Uncertainty and Doubt) both have no place in gaming and technology in general. Both are the last ditch efforts of the desperate.
Placing Ads in games will no doubt inspire more pirated versions of the games as they can selectively remove those ads like some games get their cut scenes removed. If fully pirated copies are not the outcome then surely tools to block these ads in the games will. So in the end the consumer and the gamer loose out by putting ads in our games.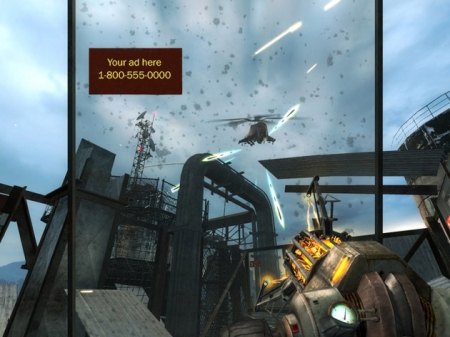 Screenshot courtesy of
Planet Half Life
Related Tags