iPhone 3G S encryption hacked in 2 minutes
So Much for "highly secure"
Published Fri, Jul 24 2009 7:31 AM CDT
|
Updated Tue, Nov 3 2020 12:36 PM CST
Apple might have gone a little overboard in their description of how secure their iPhone 3G S is. I know this will come as a shock to no one (except a few very hardcore Apple Fans). After all Apple continuously claims that OSX is not vulnerable to crashes, viruses, hacking etc.
The rub is that on Apple's website they state
iPhone 3GS offers highly secure hardware encryption that enables instantaneous remote wipe. You can even encrypt your iTunes backups
This highly secure encryption was hacked in 120 seconds. Bear in mind this is supposed to be hardware level encryption, not simple password.
The encryption was so weak that it was described as being "useless". Now no encryption is perfect or unbreakable; that is not the point of this type of encryption. What you want strong encryption for is to allow you time to wipe the phone if lost or stolen.
Apple has done a terrible job on their attempt to court business users with this feature. Although the currect hack requires physical control of the device it is entirely possible that a Bluetooth or WiFi hack for this could be created. After all how many people run around with their WiFI on all the time and Bluetooth left in discoverable mode.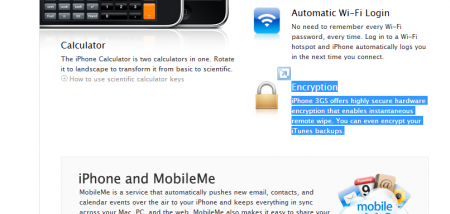 Related Tags