Orange Solar Tent Concept Looks Nice
On Paper, no word on when it will be real.
Published Fri, Jun 26 2009 8:34 AM CDT
|
Updated Tue, Nov 3 2020 12:36 PM CST
Unlike many computer enthusiasts I am an avid camper (at least none of the other enthusiasts I know like camping), there is nothing I like better (except maybe new tech) than getting out on the trail or at the campsite. Granted I do bring a lot of tech with me, but still I love getting out.
Well Orange is working on a tent that may just be able to combine both of my loves, technology and camping. This is their new Glastonbury Solar Concept Tent. The new tent is a recap of a 2006 design and has some great features like luminescent fabric, battery gauges WiFi connectivity and a host of others.
There is only one problem that I see for this tent. It is not real yet...it is just a concept. I am hoping that Orange can make this real and not just mess us around with mock ups and press releases (Duke Nukem Forever comes to mind)
Read more
here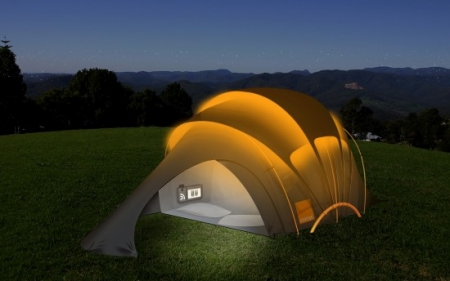 The Concept Tent has been designed in association with American product design consultancy Kaleidoscope and builds on learnings from the original Orange Solar Tent that was trialled at Glastonbury in 2003, as well as 2004's Orange Text Me Home Dome. Having worked closely with Glastonbury for the last eleven years, Orange know the importance of keeping in contact with friends while onsite and undertook this concept project to look at how the festival goers communication and power supply needs might be met in the future.
Related Tags