PoV ION board has PCI-e x16 Slot
mini-itx board with upgrade slot.
Published
1 minute & 3 seconds read time
Looks like Point of View is working on their very own ION based mainboard. This in and of itself is not surprising, but the fact that they sandwiched in a PCI-E x16 slot and they also opted for a standard 24-pinn PSU connection.
This means that you could drop in a pretty hefty GPU onto this tiny little board. I am not sure why you would want to do that but it is possible.
The rest of the features are pretty stock, there are slots for two SODIMMs four SATA ports and the usual outputs for audio, LAN, and video.
I have a feeling the ION offerings are going to get more and more silly as this new chipset for Atom ramps up.
Read more
here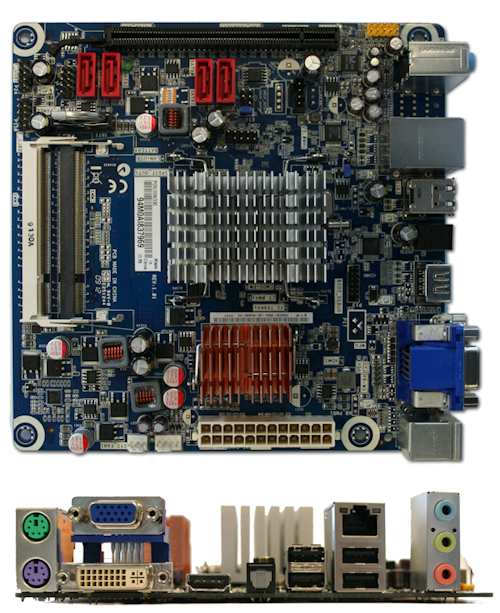 The POV mini-ITX ION motherboard is based on Nvidia's MCP7A-ION chipset and can be equipped with either an Intel Atom 230 or 330 CPU. It has two SO-DIMM memory slots that support up to 2GB of 667/800 memory. Point of View has decided to include a PCI-Express x16 slot which is kind of useless, as pairing this platform with a more powerful PCI-Express graphics card is just pointless.

As you can see from the picture below, this board will need a standard PSU as it has a 24-pin power connector. The rest of the features include four SATA ports, a Realtek ALC662 5.1-channel audio chip with optical SPDIF output, six USB ports of which two are via a header, DVI, D-Sub and HDMI outputs and Gigabit LAN. The ION chipset and the Atom processor are cooled by separate heatsinks.
Related Tags