HyperFast said to vastly improve SSD performance
Increases lifespan by efficiently organizing data.

Published Wed, Jan 28 2009 7:22 AM CST
|
Updated Tue, Nov 3 2020 12:37 PM CST
Diskeeper Corporation has recently released an add-on to its popular on-the-fly defragmentation software "Diskeeper 2009".
HyperFast is a specifically designed application designed to optimize the performance of SSDs on Windows operating systems. They key benefits are said to be faster performance, longer lifespan and avoidance of operating system / SSD design incompatibilities.
But how does it do all of this? Using InvisiTasking processing technology, which works transparently in the background (no scheduling!), HyperFast
creates and maintains optimized free space, increasing the controller's ability to write sequentially and thereby enormously increasing the peak speed and life of the SSD
, according to the company.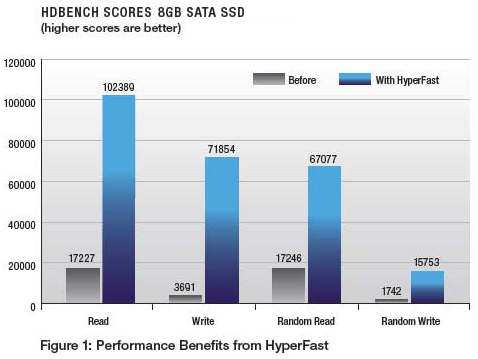 Enticing consumers to buy the software, Diskeeper ran some simple tests on an 8GB SSD and saw huge improvements.
To demonstrate this fact, benchmark tests were performed (Figure 1) on an 8GB SSD in a simulated real world scenario to depict a customer's environment over 6 months. With HyperFast SSD optimization enabled, performance gains were automatically realized with 5.9x faster reads, 19.5x faster writes, 3.9X faster random reads and 9.0X faster random writes (higher numbers indicate higher performance).
You can read more
over here
. I'm going to attempt to get a copy and run some tests and see how it goes.
Related Tags