No TLB bug in Core i7 after all
Someone jumped the gun on their story.
Published Tue, Dec 2 2008 7:45 AM CST
|
Updated Tue, Nov 3 2020 12:37 PM CST
Yesterday the internet was flooded with rumors about the Core i7 being plagued by a similar TLB bug that killed performance (not to mention sales and reputation) on AMD's Phenom.
Well it seems that the people releasing the stories jumped the gun and did not do enough research, nor follow up with Intel. The lines in the Spec Update do not refer to the Nehalem (Core i7) at all but refer to a Core 2 (Conroe) bug that has been long since fixed.
Considering the number of reviews, tests, Overclocking, follow-ons, etc. that have been published on the i7 (all without having seen this error) I am not surprised to find out this turned out to be a false rumor in the end.
Theo Valich has an enlightening read
here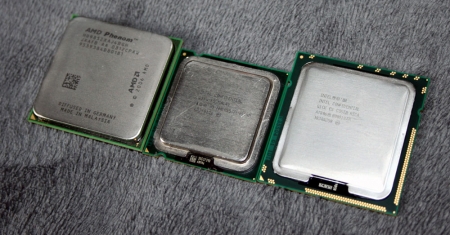 Shortly after 10AM PT, I received an answer from Dan Snyder, Intel's PR manager and CPU specialist. The answer is an official statement from Intel:

"This is simply a pointer to a previous document written in April 2007. This document is an application note (advises on programming techniques) that programmers have had since April of 2007. This item in the Nehalem spec sheet is a web pointer, under the heading "spec clarification". The reporter who wrote this did not contact us and we will try to clarify this with him."

The story was not over here, I also received a detailed clarification over this "issue" that turned into a non-issue:

"SPEC CLARIFICATION AAJ1 was initially added due to an issue on the Intel Core 2 Duo processor which was previously corrected with a BIOS update; this issue does not impact the Nehalem Family of CPUs. There are errata on the Intel Core i7 processor that relate to the TLB. These all relate to improper translations or error reporting, and all of those that impact functionality have been fixed via BIOS updates prior to Core i7 launch."
Related Tags