nVidia reenters the Deskside Supercomputer market
4 terraflops of power under your desk just $10k.
Published Tue, Nov 18 2008 6:18 AM CST
|
Updated Tue, Nov 3 2020 12:37 PM CST
The deskside supercomputer is nothing new, several companies have tried their hands at this intriguing but costly device.
nVidia has now managed to put together what they seem to think is a reference design for an "affordable" (roughly $10,000 US) deskside supercomputer. Based on the second generation Telsa card, the new suberbox would contain four C1060 Tesla cards and need at least a Quad Core CPU and 16GB of RAM (nVidia recommendation).
TGdaily has more information
here
.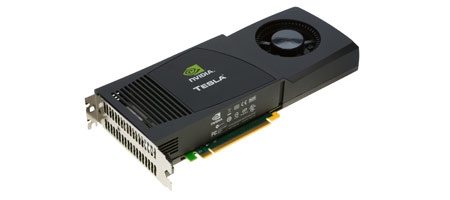 If you are into numbers, such a PC would have 960 graphics cores and a combined performance rating of about 3.6 to 4 TFlops in single-precision and about 400 GFlops in double-precision applications. The C1060 GPUs (T10P processor) are clocked at 1.33 GHz and rated at a performance of about 900 GFlops in a single-unit configuration.

Depending on the application performed, Nvidia claims that a Tesla PC will be about 250 times faster than a regular desktop PC. However, we need to be fair and mention that this number also depends on the system the PC is compared to. For example, a PC equipped with an Nvidia SLI system or two of ATI's Radeon HD 4870 X2 cards can compete with a Tesla PC in the Teraflops department. In fact, ATI says its tow 4870 X2 cards provide about 2.4 TFlops in single-precision and will actually outperform the four Tesla cards in double-precision.
Related Tags